The Federal Investigation Agency (FIA) has issued an explanatory statement on the news of the opening of offices of Facebook, the world's largest social networking site in the country.
The FIA ​​clarified in its tweet that there is no truth in the news of Facebook opening offices in Pakistan.
The statement termed the news of opening of offices in the country by the social networking site as false and also clarified that some broadcasters were spreading false news in the name of FIA spokesperson.
The statement quoted an FIA spokesman as saying that the news of the opening of a Facebook office in the country was false and that such rumors were spread without confirmation.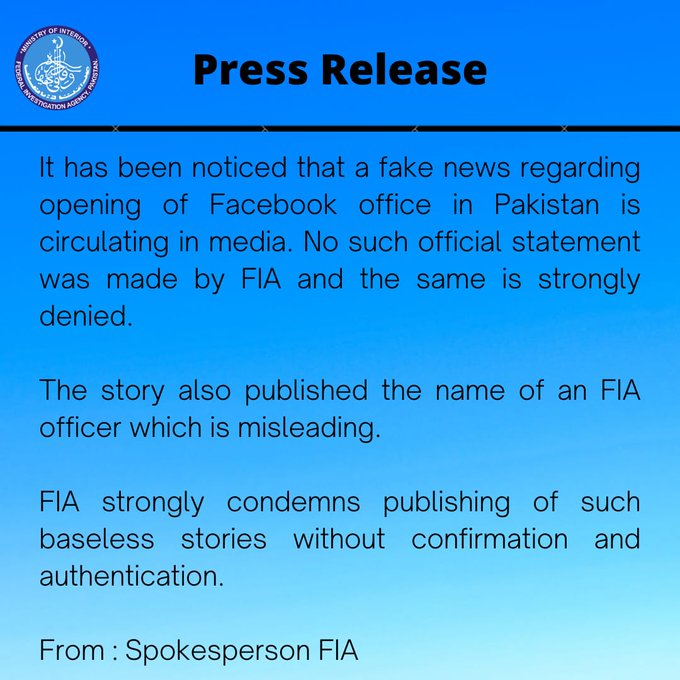 Prior to the FIA's explanation, some broadcasters had said, without naming a spokesman for the FBI, that Facebook plans to open an office in Pakistan soon.
Even before this, rumors of Facebook opening offices in Pakistan have been circulating for the past few years, but the website management has always denied such reports.
According to the Facebook administration, they will continue to work with content creators and government agencies in Pakistan, but there are no immediate plans to open offices there.
Even during the last federal government of Pakistan Tehreek-e-Insaf (PTI) there were rumors that Google would open offices in Pakistan including Facebook and Twitter but this did not happen.
There are millions of Facebook users in Pakistan but there is no Facebook office in the country and no Twitter or Google office.
Facebook, Twitter and Google do not have offices in dozens of other countries like Pakistan.
Most of Facebook's offices are in European and American countries. There are also Facebook offices in Africa and Asia.
Facebook has a total of more than 18 offices in Asia, located in New Zealand, Australia, Japan, Indonesia, Singapore, the Philippines, China, Taiwan, Malaysia, Hong Kong, South Korea and India.
Surprisingly, Facebook has 5 offices in neighboring India, located in Mumbai, Delhi, Bangalore, Hyderabad and Gurgaon.